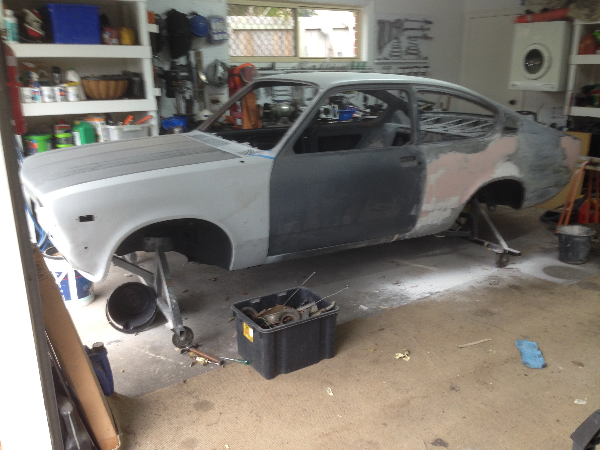 Shell is back on four (little) wheels. All the welding finished except for a bit of repair around the fuel filler.
Underbody is has been epoxy primed and finished in a ripple underbody finish. Beaver and radiator support panel repaired but will need a bit of finishing work. Guards fitted and the doors and bonnet temporarily back on to check guard alignment.
Stripping down both rear quarter panel a has been the main task of the week. The left has been repaired before but the body filler was rotten and rust was starting underneath. Have worked to get some the high spots flatter to reduce the amount of replacement fill.
Did a search under the house on hands and knees and came up with a TX grill, 2 lots of headlight surrounds and a vent cover.
The G200 in my sons car in the intended donor but it is having some head problems. Tossing up whether to get the head fixed properly and go G200Z or rebore on a G180Z that is sitting under the bench or a G161Z that only needs rings and bearings.
Suspect the next month will be a lot of filling and sanding to get the shell tip-top for painting.
My grandaughter announced she wanted the car painted red. Last week it was purple and pink before that. I am pushing for Palais White but I am not going to win this one.