So the march to RWC continued. Few items left to complete, some id been putting off for a while like fitting the exhaust [i f*#cking HATE slip joints].
Decided while i was under there to do the rear sway bar bushes as well. What a prick that was to do - bushes used to be one piece, so youd squeeze the new bush in then drive the bolt sleeve through the middle. Now in two halves, which is easy to fit...except when you push the sleeve through it keeps popping em out. So two big washers and a long bolt got them in. Neck was sore as f*#k from sitting on an angle though - either im getting old or i desperately need a hoist.
While underneath i was reminded why i persisted with the stupid thing in the first place. How good is that boot floor for a gemini! [yes i know i needed to cut down the bolts for the battery tray]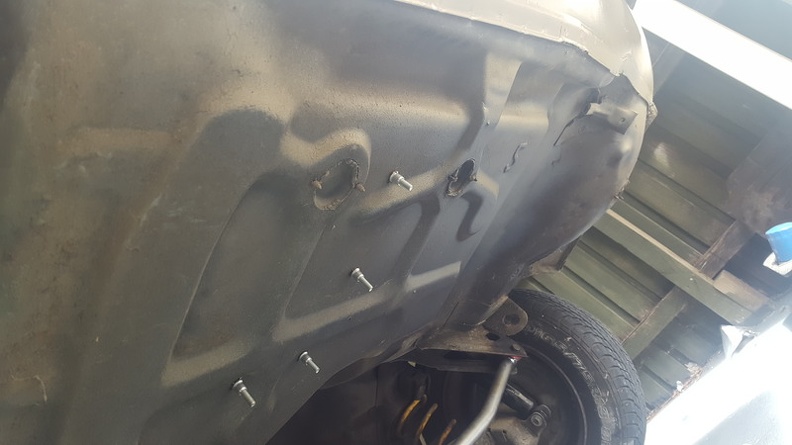 Had a bit too much pedal play in the clutch, couldnt work out why...until i noticed there was no pedal stopper, i mustve stolen the bolt for something else
f*#k i was a giant hack when i was younger
Last few items to do before roadie - fit stainless sill trims and rear parcel shelf. The stainless trims were a bugger - the sills have a plastic clip [if they break off, good luck] while the quarters have a metal clip bolted through the gaurd...which goes rusty and falls off. Which is precisely what happened to mine. So. These became a godsend.
Which look like this.
So cut them down, glued into sill trim and bolted on. Worked like the real thing. They also came in handy for those damn speaker boxes ive obsessed about for the last 11ty posts. Was wondering how i was going to mount them...
Speakers needed something to mount to. Break out the jigsaw and piece of MDF.
Trace
Cut
Hole through for bolt/mount stud, including a bit of speed bore action to make a nice flat area for the washer and nut to sit in nice and tight
Tada.
Rapt with that.
Which brings us to judgement day - took the day off work to go register the car, knowing full well that id probably go for a drive for the rest of the afternoon. After much wrangling and headache at Vicroads because the engine number wasnt perfectly legible - geminis are notorious for losing engine numbers because its stamped on the top surface of block so it gets mangled or wiped when someone preps surface for new headgasket or machines block - I finally got rego.
Went past the fiances work, took her to lunch. It might seem insignificant to some, but when i met her 7yrs ago I was driving this. Back then it had the injected DOHC in it, many lols were had when her high school mates picked the wrong fight so to speak. Was off the road when we first started hooking up, and then returned with an EFI turbo setup when we went our separate ways. Ever since we've been together, its been off the road so this car has always been a sort of unicorn mythical thing to her. I reckon her grin was bigger than mine all day.
Took it to mum and dads after that. Mum cried when she saw it [their Gemini was the same colour].
So this is no doubt where youd expect me to tell you everything is ok, and everyone lives happily ever after and all that. The car will make my wedding in 6 weeks time, that all ill be doing is putting the Borbets until next year when i hopefully have a bit more time to start doing the engine conversion.
Except for one, small little thing. This isnt a f*#cking fairy tale. Call it fate, call it a curse, call it whatever you want to call it - it makes no difference to the outcome. Seeing 10yrs of your life, 5 years of blood sweat and tears, thousands of dollars and countless hours spent end in crumpled metal just hours after what started as a really good day is just f*#cked.
f*#cking devastated is an understatement. Long story short, the lady in front of me decided that amber means come to a complete halt regardless of how fast you were going at the time. No word of a lie, she was stationary BEFORE the light went red. No amount of pedal modulation could get any significant speed scrubbed off nor could i go around her because i had a car in each lane [literally the only 4 cars on the road at the time]. Smacked the front RH corner into her LHR.
Cars f*#cked. Bonnet and apron might be repairable/salvageable, gaurd is well and truly f*#cked which is going to cause immense headaches because finding good early gaurds is like scoring a date with Jennifer Hawkins. The issue is the bumper mount took the brunt of the impact - in a way a positive, because it saved the radiator support and front rail/suspension/crossmember. What that does mean however is its transfered the impact right through the inner gaurd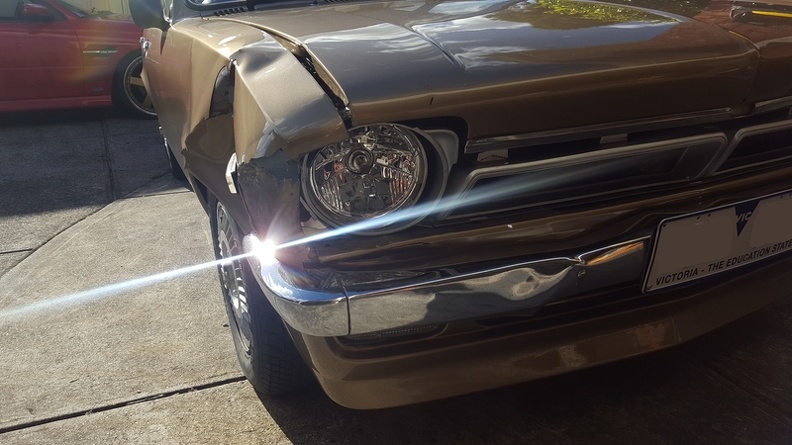 And now for the real ugly. [ps yes i know the engine bay is a mess...car was due to be detailed this weekend
]
Inner gaurd closest to firewall
Inner gaurd upper corner - theres a big dent caved in under the gaurd lip thats most bent, and another crease to the first gaurd bolt left of picture
Pass side Firewall lip to shock tower centre....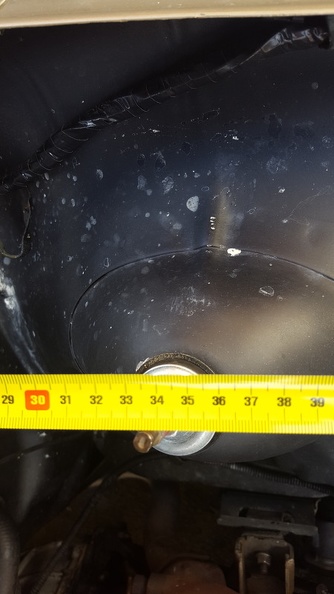 Drivers side/side that got hit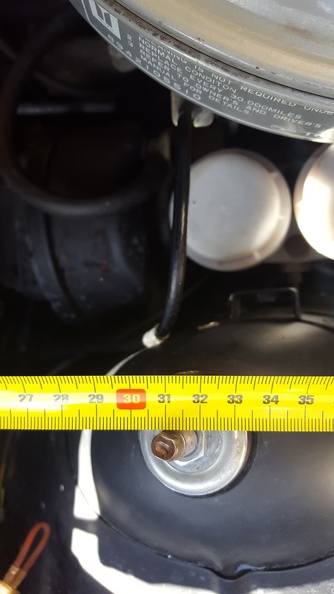 Kinked A pillar/lower door hinge which is why the door is now crooked
Its pretty ugly. Yes the hit was hard. No i wasnt going too fast/too close. Theres just no way i could stop in that distance.
Hoping that by pulling from the bumper mount that it could possibly be pulled back and square up. Guess ill just have to wait and see. Everyones quick to tell me to reshell it, but its not an option. This may sound childish but I dont want another Gemini, i want MY Gemini. Ive been through hell and back with this thing and am far, far more sentimentally attached to it than i should be.
So. I had a few days of sooking and people humoring me, letting me be grumpy and s*#t and got on with it. Mrs deals with a panel shop through work and put me onto him to have a chat given the guys i used to use for work i was incapable of doing no longer are in the trade. Had a chat with him and took the car around on monday and he is confident that it will pull back fine so i guess thats some good news. Not getting too excited until it actually pulls out again but heres hoping. Should be going in next weekend
Figured i may as well start finding parts i need, given that the old girls are a fair bit scarcer than the later models. Please excuse the s*#t photography getting worse, at this point i was still fairly grumpy with the whole ordeal.
Jonno informed me that, despite being in another state, sorry territory, he knew where to find the bits. So this ugly thing and i got acquainted for the next hour.
An hour for a quarter removal?! Yes, because some f*$kwit in the past decided to spotweld the quarter to the front apron, so i had to cave-man it and break welds/tear sheet metal using a flat head screw driver and a nearby rock. Somewhat ironic given that the last time i ventured out to this particular wrecking yard [its on the other side of town] was when i was 17, and my father spent the next 3 hours cutting a chassis rail and boot floor out of a Gemini for my coupe the EXACT same way.
So remember when i said finding a good, rust free gaurd was like scoring a date with jen hawkins? Anyone got her number?
Not all fantastic though, because it looks like a tree branch or something has fallen on it in the past, leaving this c*#t of a crease in the gaurd. Probably why no one had taken it.
Shallow tapped out easy enough however crease was in the WORST spot for access. Father inlaws neighbour came round for a chat and gave me a hand by holding the gaurd in position for me while i scorched it with the propane bottle and wailed on it with hammer, dolly and chisel [yes chisel]. As good as its going to get i reckon. Need to dress the edge slightly and skim with filler but as good as it will ever get with a hack like me.
Bonnet needs to be saved as well. The one on the white car was absolutely f*#cking rooted; they all rust on the front edge on the inside of the bonnet. Found a NOS one.....1k!!!!! NO f*#cking CHANCE.
Pull on edge, push on crease and it leveled out. Can get decent access from behind so should be able to tap the dent up. Little one on the nose of the bonnet however is strictly a fill job - no access, and i dont own a stud welder.
Speaking of salvaging as much s*#t as possible, TX grille [twin nostril type] - no longer easy to find. I f*#cking HATE the TC type, and not a huge fan of the TD egg crate one either. Again, not easy to find.
Busted out the araldyte. Hoping it holds.
Thats about it for now.
N-