So, its been a while. Last real installment was at the start of December 2016.....thats almost 6 months ago! Time flys it seems. Truth is i havent really done
anything
to the car apart from drive the f*#k out of it, so as a result i havent had anything to really post about. And when i say drive the f*#k out of it i mean it - ive racked up around 10500km since November. Its currently my daily driver while my wife drives the ute around until i get her a new car.
Last time around I'd just bought the Borbets. Did a test fit just before christmas, they sit ok - still 50/50 on them staying on the car long term though, but i'll reserve judgement until they are painted and on the car. Also considering getting the non-hex style center caps as well. Started to strip them down which is where ive discovered that this seriously is the worst job in the world. Fun fact - borbets have around 11ty layers of paint which seem to be 900mm thick. So far ive started two and given up for the moment :rotflol:
To be honest, i think they need to be painted more of a charcoal colour to look right - the silver is too light and doesnt stand out enough. Problem ive got is i cbf painting it one colour, then taking one look and going nah - looks s*#t, strip it down again. f*#k that!
Got christmas out of the way and the time came to pack the car up and head off on our honeymoon. Yes, not only is my mrs stupid enough to have willingly married me, but shes also as broken as i am - honeymoon was planned around 4 weeks of road tripping the east coast. Original plan called for buying something stupid/random [ie old Jag or Land Rover or something dumb] and hitting the road. Common sense prevailed [oh the irony] and she suggested we take the Gemini. And by common sense I mean there was nothing we both wanted cheap enough to justify buying for the trip. Lets just recap this just so you can understand why this is a stupid idea and why our respective families think we are retarded - route was basically as follows: Melb to Ettalong [936km], Ettalong to Ballina [693km], Ballina to Hunter Valley/Pokolbin [637km], Hunter to Wollongong to catch up with my parents for breakfast who were heading north/also happened to be a day after my 30th bday [276km] before heading onto Eden [395km], before finally heading home [570km]. All in just under 4 weeks, smack bang in the middle of a searing aussie summer. We even got tangled in the heavy downpours on the way to Ballina just after new years day [note: car leaks like a sieve].
What could possibly go wrong
...
.....actually, nothing. Car was mechanically bulletproof. Didnt overheat. Never not-started even though the starter solenoid is a bit dicky and sometimes clicks instead of actually rotating the motor. Didnt break down. Didnt end up on the side of the freeway. Nothing fell off* or broke. We even had people give us death stares as they sat on the side of the highway, bonnet up in their sub-10yr old broken down Subaru/Mitsubishi/VW/Fuckwesawsomanywelostcount while the almost 40yr old turd soldiered on past them**.
Seriously. No dramas. Here it is in the hunter valley***.
...yeah right :rotflol:
*Had a bolt come loose and fall out of the upper ball joint, which, strangely has happened to me on another Gemini before. Fortunately there was still another 2 bolts holding it in [stub axle and another locating bolt] so it was literally just a matter of slipping a new bolt in and knock-be-gone.
**Also slipped out of 4th twice on one leg of the journey while engine braking down the hills on the way in to Wollongong. I put it down to the gearbox being hot / day being stupidly hot - was mid 40s that day from memory, and gearstick was scorching hot. Hasnt done it since.
Saving the best for last....
***Happened about 40km out from the hunter valley, mid day, peak heat. Coming up behind an RV going up a hill, the bloke did the right thing and moved over to let cars through. f*$kwit up front couldnt work out what the hell they were doing and after hesitating for an eternity went around the RV. By the time the time this had all happened, the road was now downhill and RV was now doing the same speed as us [just on 100kmh] and coming up to a corner, so i gave him a flash to let him merge back over. Van starts moving over...
Stone/Rock/solid object, meet Windscreen. Windscreen...well, c*#nts f*#cked. f*#k. RV had flicked up a stone or whatever and launched it into the screen. Saw something small flying towards the screen and heard it hit the screen and then suddenly everything went white. Mrs screamed and im just like f*#k, this is going to be fun. Silver lining was I got a good look at the road before the rv moved over so i knew it was straight until corner at bottom of the hill, so i had to basically look at the white reflector posts out the passenger window and hope i could stop without hitting something. To be fair, not really the cars fault, but it just HAD to happen to this car didnt it. Which brings us to the next problem; remember when i said our families thought we were both crazy? Well....that might be because we didnt have any road side assistance/coverage.....
Ended up having to kick/punch/remove the windscreen from the car, before doing the next 40km with no windscreen....boy that was fun.
Big thanks to NSW highway patrol who stopped to see if we were ok
. Actual thanks/no sarcasm to old mate in the Golf who stopped to see if we were ok/had phone coverage/had water etc. Champion.
Rest of the trip was fortunately uneventful, and at least we lived to tell the tale i guess.
Came home from honeymoon, pressed old girl into daily driver duties. Poor thing had to live outside while we were living in Reservoir. Finally got around to fitting dads old rego plates which came a day after our wedding [spewing]. On the bright side, no longer suffered from One Venerial Disease and One IQ.
March, and a Canberian-PFer decided to come down for the weekend to help Greg throw his Gemini together for Gemnats. While he was down we all thought we'd drop in at the Dandenong All Holden Day for a squiz. Pulled in, yep just drive down straight and park on the grass. Rolling through and mrs points out theres no parking here....i think old mate wants us to park in the display area. Same thing happened to another mate. That made my day.
This is where id put pro photos but, you know, certain PFer didnt bring is good camera. And even though i actually saw HEAPS of people taking photos of Shitboxen, didnt see any on line.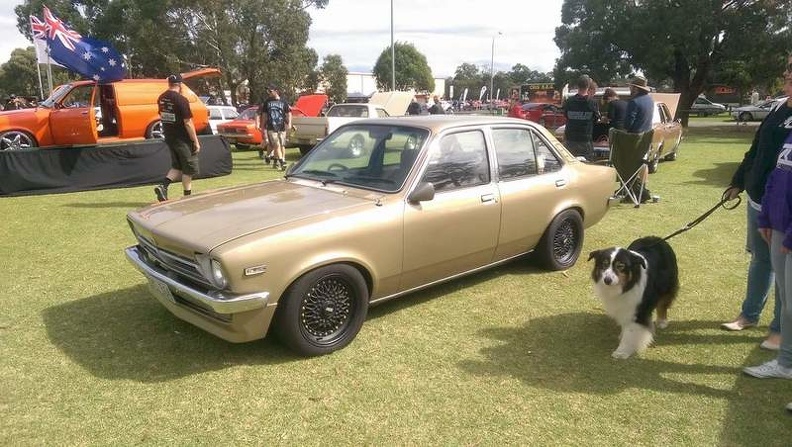 Mechanically car has been pretty good. Hasnt used any oil or coolant so despite not exactly being the best example of a G161z, its performed ok. Had a bit of an ignition issue where the earthing strap inside the dizzy fell apart [goes from points base plate to dizzy housing]. Fixed that, only for the coil to s*#t itself soon after. Replaced that, all good coming up to Easter.
Now, Easter. Gemini Nationals - the Entrance, NSW. Add another just-under 1000km each way of driving plus the cruise [another couple of hundred through the hills of NSW]. Finish work on Thursday at 1pm, load car, drive the 10 or so hours. Do the weekend, leave Monday morning and home by evening. Cars behaved in the weeks running up to this apart from the ocaisonal cough or splutter under certain loads. Was going to swap to an elec dizzy but the inbuilt ignitor was dead so that didnt happen. Put the old points dizzy back in, timed it up and car was running ok.
Few days out from departure, i notice the charge light is dimly lit. FFS. Here we go again. Bit of poking and prodding and playing with switches, and i worked out that it only does it under high electrical load - so stereo, demister, wipers and headlights all at once. Phew, not the end of the world. But cars begining to cough a bit more frequently....hrm. Get home from work, pack the car up, go to start it and......you've got to be kidding, no spark. Had a bit of a fiddle and got it going. Smart idea to attempt a trip that long with a car thats decided it wants to play games? Probably not, but I aint come this close to give up. Took off, plan was to detour through Wangaratta and pick up another coil just in case the new Bosch one i had in there is about to s*#t the bed. Apparently pretty common on the GT40 series coils. Grabbed a new coil and put it in the boot, things behaving thus far. Maybe we'll be ok. Get as far as Goulbourn, pull in for fuel and a coffee. Fill car up, move it to the side of the servo while we have a quick stretch and a drink. Mrs was strangely finding this trip a bit hard and uncomfortable; this despite the fact that we've travelled a stupid amount of ks in this car. Called Dad, had a chat, got yelled at for taking a car that was playing up on such a long trip and why havent i put a spare tyre in the thing yet etc. What do you reckon happened next?
Yep. It decided it didnt want to start. f*#cked around a bit and it started again. Interesting. Coughed a few times and carried on but on we went. Got to The Entrance, sweet. Friday morning, same deal - refuses to fire. Coil is hot, maybe coil is dead. Tried cooling it down, nope. Tried changing coil, nope. No spark. Poking around, got the mrs to crank the car over while i was looking at the dizzy and low and behold, points arent opening. That
is
interesting, given that the points are new. Closer look and the neoprene block on the points werent actually contacting the cam on the dizzy. Bent the arm on the points to make contact, all the sparks, engine starts and runs smooth as f*#k. Success. One of other guys [another PFer] mentioned that the neoprene block wears out if there is no grease on the dizzy shaft. Said to pinch a bit from the wheel bearings, so popped the bearing cap off, smeared a bit on the dizzy and great success.
Without further ado, pic dump. Most photos stolen from Greg.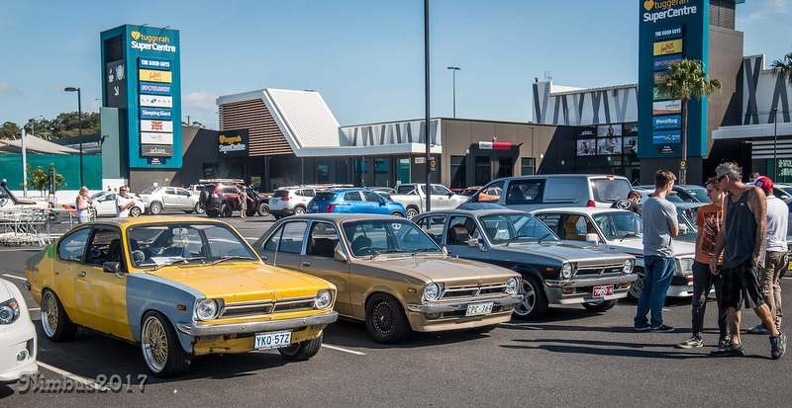 33 cars at first meet point. PFer no13_CoupForgettobringmyfuckinggoodcameraeverywhere car on the left.
Congo line at start of epic run through hills lead by NSW state rally champ, NFI why my Mrs is doing the YMCA in the middle of my photo. Few soft cocks complained ohhh its too long and too hard on the cars. f*#k off, i loved it. Towards the end there were a few of us [about 6 cars or so] running pretty hard, nose to tail. Good fun.
Lunch stop at Wisemans Ferry. Another PF-ers car to right of screen.
Fancy as night shots. Note PFers car to right.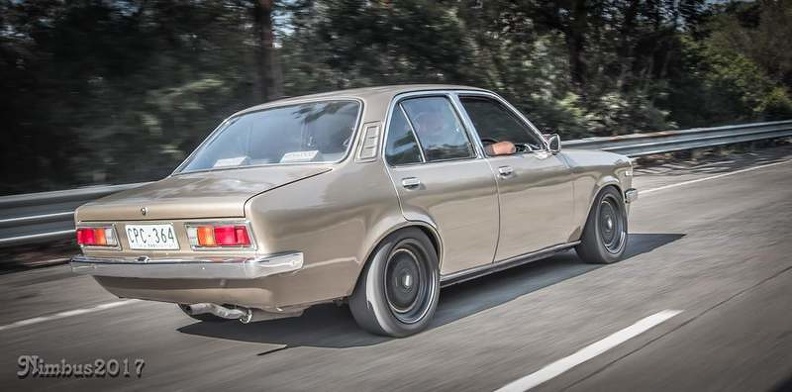 Home bound

Sun setting looked pretty apparently. Greg demanded we stop and snap a photo...who am i to argue, looks awesome
And thats about up to date. Really, really, REALLY need to get started on the new engine for two reasons. Firstly, despite not using any oil or coolant, the engines getting a bit tired and unhappy, not helped by this weekends thrashing. Second thing is, ive been given a deadline [because these have worked so well in the past] to get it done. If it doesnt get done by then, well, lets just say it probably wont get done for some time after that.
If everything goes well this time, Ive been given a maximum of 40 weeks to finish it, although a few weeks have elapsed so it could possibly be as low as 32 weeks to finish....
N-