Place holder for build thread cause everyone in this section are assholes and I'm getting envious of their cool builds.
Warning explicit language involved in this thread.
You will feel a strong hate for geminis after reading
You will feel like 10mins of your lifes been robbed.
I accept no responsibilities for the above or offending anyone.
It''s a small excerpt from my other build thread I made on another forum.
This ones a bit more sped up and relevant.
Not too much dragging on about how I changed the lights 10 times or added some f*#cking s*#t to it and took 600000 pics of it.
I could go on with some bs claims how it will make 300hp and do easy 9s and stuff but eh no one cares.
So welcome:
Here's an artsy pic I made after I got it.
Here's when I trekked out and picked up on this stupid trailer a mate at the time lent me...
So basically it sat around for a bit I built a shed for it shed blew over in a storm and ended up living under a tarp.
For those who have seen my nationals pics my Dads got a bus he's completely converted into a motorhome.
So we decided to build a proper shed for the bus and mine (and my sisters) Geminis.
So we had to skull drag the bucket with flat tyres with the tractor. Fk me stuck in a ditch and what a prick to move.
So after this 'effort' I decided to throw on these excellent wheels I had for it from many years prior.
Yep super excited. Look decent need tyres stat.
Anyway we moved the coupe into the shed and I started pulling out the crap I had been accumulation for years for the thing.
Previously I had had a 13bpep for it. Sold all that stuff off and since been through about 6 different motor ideas.
weber fed 161z
G180W
4zc1 t
G200+T
4ze1
4ze1+T
LS1
There's like 30 years of crap lying on the floor so I cleaned it up. Took me ages to kill off all the old crap sound deadening.
Figured there'd be shittins of rust hiding underneath it.
Rust?
Nope
So blasted it all back to metal and prepped it up. Stone guarded the s*#t out of the floor. Then painted it the rest nice matte black.
Yep that's me the fatcunt steering the thing around just after I'd finished the floor
Fitted up my million dollar seat and we almost have a complete interior!!! Heeaappp sik aaayyeee?
Sorta.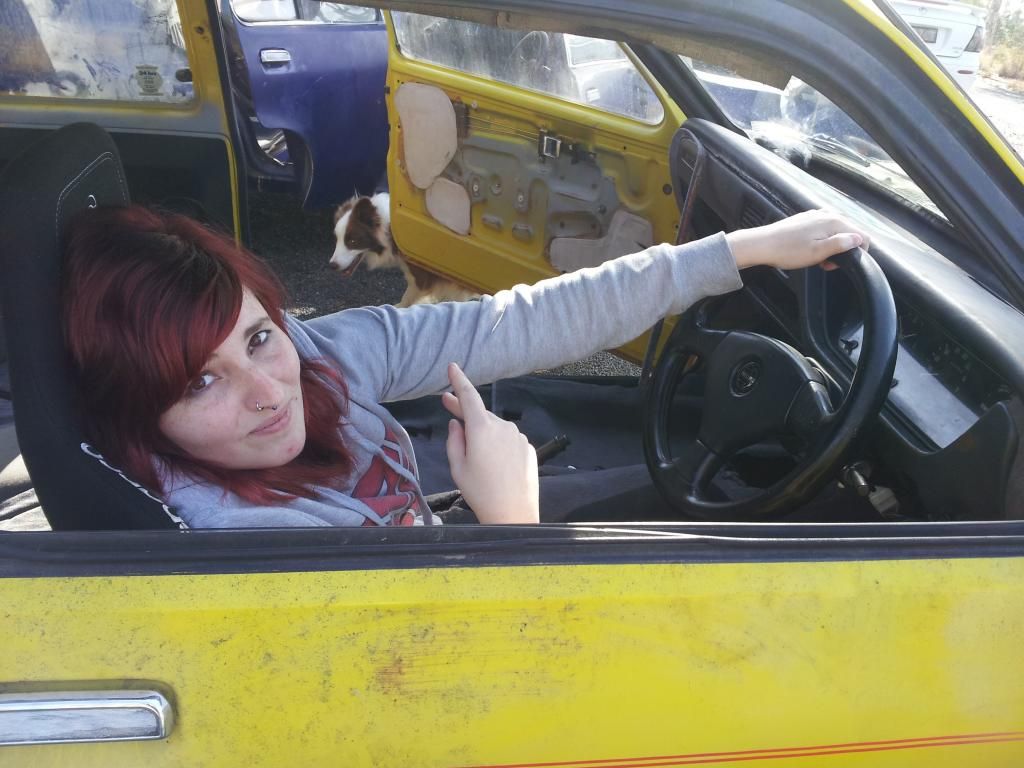 Threw my sister in told me how far can u see over the dash. "I can see the steering wheel"
Nek minnet the seat and mount are out again. After spending about an hour fiddling with the seat height and how far back I could mount it it was in.
Got flash new carpet crack free dash and sweet steerer Jimmy had sent my way.
Decided that I may as well fit a standard 1600 back in see if it moves and go from there.
So I bought a TD panelvan for bits. Stripped it and put all the good stuff into the coupe.
Dave sent me a fuel tank installed the 1600 fuel tank and a few other nick nacks and between Arrow, Elkin and I we finally got the shitheap started.
f*#k yeah!
So skidpan was coming up we were hella keen to blow the diff centre out have some lols and hi 5 each other after chucking it on the trailer.
Took it for a test road worthy.
Got an idea for things that needed to be fixed.
Started fixing it.
Brakes were an issue so we completely swapped crossmembers and installed a brand new master cylinder.
Now has my TE sedans xmember and isuzu truck master cylinder.
Got my head mechanic Marty on to that and we had the thing pulling up a lot better than before.
So after a quick seat swap and a few other stupid additions (Takata harness and about 10hp worth of stickers) the shitbox was ready for skids!
Sick so Elkin and I go out to my parents joint fill the bitch full of petrol get it started and cruise into town.
15ks from home I start to feel like the powerhouse 1600 was a bit down on power.
Hmm fk this is odd nek minnet TICKTICKTICKTICKTICKTICKTICKTICKTICK FFFFFFFFFFFFFFFFFFFFFFFFFFFF
Pull over shut the thing down. Elkin and I assess the situation.
Well. Seems that old reliable 1600 decided that 4 rods where too many.
Bugger all oil in the thing (seems to have eaten it) f*#k.
Quick dash to the local servo fill the thing with oil then kane it home.
Rod knock is excessively obnoxious at high revs. Eh almost home boot in it and full crank all the way home.
It's f*#cked anyway what do I have to loose? s*#t SKID PAN entry!!!! eh... To late for that now.
Come around a corner still lights the inside wheel ok.
Ditch it out the front and wait for my missus to flog me over yet another car out the front.
Yep well that happens about 5mins of me walking in the door.
So Elkin and I ponder wtf happened. Talk to Nick come to the conclusion oil pump failure. Some how eaten all the oil.
Fk Motor has like 16,000 legit ks on it (not like the one with 20000 ks u bought from that lad in Sydney legit aayee)
Anyways. That's a waste of motor.
Next idea. Someone bound to have a runner somewhere. My mate down the road just wrecked a TX bingo!
Motor seemed good sweet! Literally throw the c*#t in the boot boost to my house and begin the removal of the old and throw this in. This will work right???
Nothing went right. At all.
What a f*#cking drama. It pretty much pissed down rain snow sleet what ever you can think of the whole day.
Get to pull most of the things out at lunch switch over with Nick Elkin and Matty in the shed.
Put it in. FK FUEL PUMP!!!
So the motor dubbed 'rego motor' was mechanical fuel pump my TX was electric in tank.
Cause I'm a genius I'd binned the electric pump in the bin aggggeess ago.
Righto hmm wtf to do wtf to do.
Eh press on will dodge something up with an efi pump or someshit.
By this time I'm sick, tired excessively angry.
Stupid idiot I am brought premium oils for hte box and motor. Put the box in all sweet.
Then the tail shaft.
Tail shaft no go rejigged the whole thing to slip the tail shaft and end up with a face full of FKING GEARBOX OIL which like diff oil I REALLY HATE.
Rage call Marty. Throw spanners kick the quarter. Elkin comes in informs me that it's 10pm
f*#k this c*#t cereal.
So that was in June. Most of the developments prior to that have been over the last 12months.
Just before my birthday in August I got bored and decided eh I got all the things. Lets turbo the stupid thing.
Got it all together then did some research and found out it was going to cost more than I wanted to spend getting the ECU remapped to suit my application.
Eh more money....
Did a few house related spendings instead.
So after months of sitting occupying realestate in my garage along with gathering parts on the roof bonnet and parts from the red thing inside it i decided yesterday that it was about time I actually did something with the nugget.
Clean up the shed after it turned into a bomb site getting Mattys and Amys gem ready for my sisters wedding.
Pulled all the awesome turbo gear off threw on a set of extractors and started setting the timing up correctly.
Elkins bumming around of course.
Bro try and turn this s*#t.
Nope wtf?
Do a few things.
So heaps sick motor lock up tight.
FFFFFFFFFFFFFFFFFF. I hate Isuzu related things.
So.
In good taste of all these cool builds and the fact that nobody will read/care about this s*#t thread I've decided to jump on the bangwagon and put something together that will invedidably break and I'll rage quit.
For this edition I've selected my least favourite engine.
Yep 4ze1 and this time around Boost. (and I can hear Andys head hitting the desk from here)
Proposed specs (this is using the majority of things from my old setup in the red can):
4ze1 - 2.6L EFI
Block
- Going to rebuild the bottom end to relatively standard specs.
- Fresh bearings and rings and some other things.
- I'll get the block decked and honed cause just to make it that much neater.
Head:
Specs TBA. Need to source a good one cause I don't know if the one I have is any good for boost.
- Ghetto back yard port job
- Maybe HD valves and a cam.
Previous N/a setup made 147.3Hp
Aiming for 200hp at 12psi boost and skids.
Watch this space and the forsales for probable rage quit sale