OK the Top Ten times will be updated in this post

Top ten will be divided into 4 categories:

top 10 isuzu powered NA
top 10 isuzu powered Forced induction
top 10 non isuzu NA
top 10 non isuzu Forced

*Rules*
If you do not adhere to the rules your post will be deleted and also removed from the Top ten.

Include in you post :
Driver/owner, E.T, mph, Car description, engine type,
also you can add any other detail of note like lpg fuel or tubbed etc...


*Example*

Daniel Burchall, 14.0 secs @ 97mph, TX/TG coupe, G161 isuzu LPG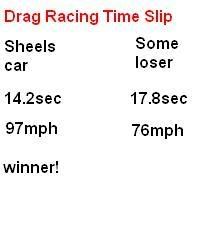 One post per person, edit your post with all your times when they change.

You must include a scan of your time slip or it gets deleted. No Ifs No Buts.

No Gtech readings.

No posts from people besides the posting of your times, eg OMGzz you got 11sszzzz
Congratulate your fellow Ozgemini member via PM if you must.
Jonno wrote:OzGemini Top Ten - Normally aspirated Isuzu powered
1. BAD 44u - Tim Payne 12.035 / 112mph, 4ZE1 2.6L

2. GEMI79 - Steve 14.805 sec / 91.69mph, 4ZD1 (Twins)
3. Elky - Elwin Cilas 14.921 sec / 88.58mph, G200w
4. BlueTD - Leo Flavel 14.952 sec / 90.63 mph G161 Twin 44s
5. vivoacer - Corey Gould 14.994 sec / 89.96mph 1643cc bottom end 5sp Manual Twincarbs
6. orange_gem - Stewart 15.027 sec / 89.65mph, G200 EFI
7. F|sh - David Fishlock 15.088 sec / 87.63mph , G180Z (track car)
8. sr20coupe - Dan Sayers 15.135 sec / 86.68mph, G161
9. Purple TF - Tupac Amaru - 15.42@88.23mph G200 Twin 44IDFs
10. 3xZ - Karen Taylor 15.457sec / 86.77mph, G200



OzGemini Top Ten - Forced Induction Isuzu powered
1. YEP9S - Damien Folley 8.691 / 158.43mph, G180

2. gemracing - Darren Hunter 9.01sec / 147.9 mph, G180 (tubbed)
3. MRS YEP9S - Julie Folley 9.508sec / 141.61mph
4. Dennis Mobbs - 9.74sec / 145mph, G200(non member)
5. Thomas4parts - Lee Thomas 9.87sec / 137 mph, 4ZD1 (TUBE CAR) in (2007)
6. John Parisi - 9.95sec / 133mph, G200(non member)
7. TX-PSI - Cam 9.97sec / 137.57mph
8.OLDSCHOOL - Arthur 10.53sec / 130mph, coupe G180 turbo
9.redzone - (coxy) 10.78sec / 123mph backed off, 4ZD1 coupe
10. Thomas4parts - Lee Thomas 11.46 / 112 mph, G180 Street car (1996)

OzGemini Top Ten - Non Isuzu NA powered
1. BTR - LeRoy 10.91 @ 121.91MPH, 355ci chev
2.202Gem - Sam? 12.783 /106.25, 202ci (methanol)
3. nicebus - Jim Grundy 13.997 secs / 99.55 mph, Holden 308ci V8
4. hsvgem - Steve Kovacs 14.28sec / 92mph , VS Commodore V6

OzGemini Top Ten - Non Isuzu Forced Induction
1.Nikki Hepburn - 6.92 sec / ? mph, 540CI T/Turbo ( Casper )

2. BARB8S - 8.06sec / 173mph, RB30 Turbo
3. crzyfj - Micheal Sheringham 8.80sec / 150mph , FJ20DET Nissan(non member)
4.OKE020 - 8.803sec / 136.9mph, SR20DET, powerglide (methanol+NOS)
5. Sam Maatouk - 8.8*sec / ****mph, FJ20 H Pattern
6. ono 747 - 8.912 sec / 152mph, 13b turbo (C16), als powerglide
7. XSPSI - Stathi Kavadias 8.93sec / 148mph , 13B Rotary (methanol)
8. XSPSI - Stathi Kavadias 9.68sec / 138mph , 13B Rotary (C16)
9. KILAFJ - 10.07sec / 131mph nissan FJ20DET
10. 202Gem - 10.54sec / 126mph 202ci turbo 6 cylinder (methanol)