I though I would throw up a bit of basic information about the side draft carby application for a Gemini. Specifically some information to Gemini enthusiasts looking to use the following variants of twin throat side draft:
- Weber DCOE
- Dellorto DHLA
- Mikuni-Solex PHH
These carburettors all share the same bolt patterns for manifold connection and air cleaner connection – but the other parts (jets, etc) don't interchange
References:
I will draw heavily from references to the book.
Hammill. Des, How to Build and Power Tune Weber & Dellorto DCOE, DCO/SP &DHLA Carburettors; Velcoe Publishing
.
Strongle recommend this book to enthusiasts.
Also useful sites:
www.dellorto.uk.co
Dellorto and Weber information
http://www.rmcarburetors.net/index.htm
Mikuni – Solex
http://www.redlineweber.com/html/Tech/T ... ntents.htm
tech info on DCOE
http://www.wolfcreekracing.com
crazy yanks into Mikuni - Solex
Whats the difference? - Weber, Dellorto, Mikuni?
Weber DCOE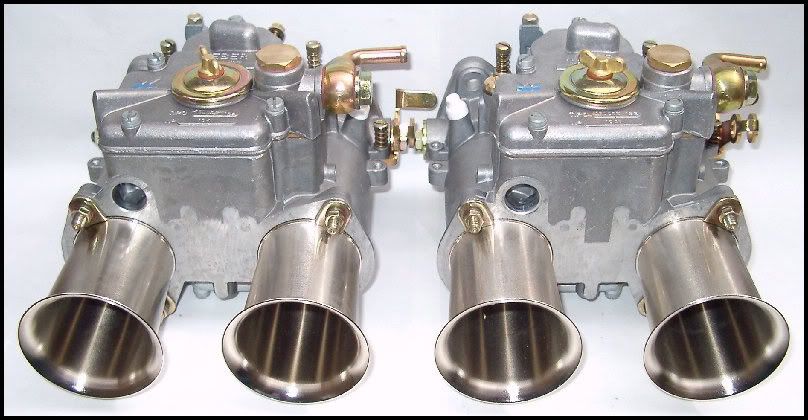 Image of Weber DCOE courtesy of
www.dellorto.uk.co
The original Weber DCO carburettors appeared in the 1950's as specialist racing carburettors for Aston Martins, Ferrari , Jaguar, etc . They were individually sand cast and expensive. (You can still get parts for them!!). In the 1960s, die casting technology made Webers more affordable and the DCOE series was born.
The most common DCOE are 40mm and 45mm, but 42mm and 48mm are around. There is also the DCO/SP in 48, 50 and 55mm (that I know little about). Here is a link to an exploded diagram for a DCOE.
http://www.dellorto.co.uk/editor/upload ... OEdiag.pdf
and a parts list
http://www.dellorto.co.uk/merchandise/products.asp
?
CategoryID=3&PartsectionID=57
Dellorto DHLA
DHLA 45 in a single sidedraft application on a 4Z engine with a Lynx manifold
Dellorto did not start making 40 and 45 DHLA's till the late 60's. They tried to improve on the Weber design – and I think they did this in little ways (diaphragm fuel accelerator pump, plastic floats, etc) but for all practical purposes they both work well and are easy to maintain and tune. Dellorto stopped making DHLA carbies in the 80's but the parts are still available.
http://www.dellorto.co.uk/editor/upload ... ladiag.pdf
and a calibrated parts list for all Dellorto
http://www.dellorto.co.uk/merchandise/p ... ectionID=9
Solex and Mikuni- Solex PHH.
A pair of Mikuni – Solex PHH 40 S5's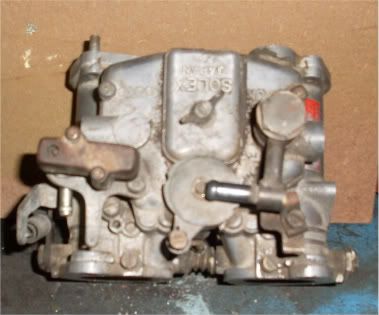 The S4 version of the Mikuni – Solex PHH 40. The only real difference from S5 is the top cover plate.
The business end of a Mikuni – Solex PHH 40 S5. Note the typical manifold bolt pattern shared by all these carbies. You can see the diaphragm accelerator pump system that is identical to the Dellorto.
Solex is a French company who had their own version of the weber style side draft . In the early 70's they sold the licence to make them to Mikuni, who improved on the design. The problem with these carbies is there are so many variants and they are difficult to get parts for as Mikuni don't support them anymore. Stay clear of the European Solex stuff.
The more common ones in Australia are 40mm come from Japanesse model Toyota Celica 2T-G and 18R-G engines. Commonly known as the S4 or S5, also known an PHH44 for the 44mm version. The link below will take you to a site that identifies different types
http://www.wolfcreekracing.com/carbid.html
http://www.rmcarburetors.net/index.htm
The distributor in the USA claims to have every part for a PHH available and the Aussie distributor has a bit. Looks like the range of tuning parts is restricted compared to DCOE and DHLA. Here is a link to the parts list and exploded diagram:
http://www.wolfcreekracing.com/Mikuni1.html
You can pick them up pretty cheap compared to a Weber or Dellorto. The Mikunl - Solex PHH uses a Dellorto style fuel pump arrangement and externally they look similar. The set up with the chokes and small venturi seems to be the main difference with PHH. The weber cold-start mechanisms are notorious for failing and running rich (they can be blanked off) the DHLA and PHH use totally different cold start systems.
In future posts I plan to look at the selecton of the carby (the better models) and some tuning info.